About Us
Our Monterrey Commercial and Industrial Real Estate Brokers help manufacturing firms and distribution companies find available buildings, typically from 25,000 to 250,000 square feet. We also identify industrial and warehouse buildings that can be sub-divided, expanded, or refurbished. In the alternative, we locate land options to build a facility for our clients and then help identify the best construction companies to bid on the project plus we provide build to suit for lease options.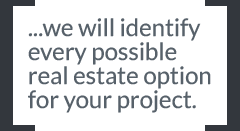 We typically represent the real estate requirements of American industries and European manufacturers moving to or expanding within Monterrey and Saltillo and adjacent cities. Our professionals have served small and mid-size companies as well as multi-nationals, OEMs, and Tier Suppliers in the aerospace, automotive, packaging, electronics, and other industries.
If your company wants to manufacture in Monterrey or Saltillo, Mexico or distribute to the surrounding areas of Nuevo Laredo, Reynosa, or Torreon we will identify every possible real estate option for your project.
Require an industrial or warehouse facility for lease? Are you considering building a custom manufacturing plant? Or refurbishing an older property? Connect with us. We have advised incoming and expanding companies in Monterrey and Saltillo since 1998. [hidden email]
From the U.S. Call
858.754.9152
In Mexico Call (81) 5350.0338
Other MSGA Cities
Shelter Assembly or Contract Manufacturing?
For some companies it can be ideal, for others it is a disaster. Is it right for your Mexico manufacturing requirements?
Featured Building
for Lease or Sale
143,000 sf - Divisible 50/50/43,000
3 to 5 Year Lease $.32US psf/mo
Class B+ Industrial Park
24' Ceiling, 8" Floors & 5% Office
Outside Storage + Large Truck Ct
Purchase $23US Per Square Foot
Looking at Several Mexico Manufacturing Cities?
MSG Alliance also does multi-city site selection consulting studies.
Headlines
:: Aerospace Cluster in Monterrey
:: Delphi Moves Nuevo Leon to Saltillo
:: Ryerson Metals Plant Next to Open
:: Mexican Shelters Change Format
:: Incentives Bring Aircraft Investment
Monterrey Mexico Industrial and Commercial Real Estate Agents is affiliated with the
Mexico Services Group Alliance
which locates commercial and industrial buildings for sale or lease in Monterrey, Saltillo,
Tijuana
,
Mexicali
,
Guadalajara
,
Hermosillo
,
Queretaro
,
Juarez
,
Chihuahua
, Mexico City, Puebla, Aguascalientes, Toluca, Zacatecas, and San Luis Potosi.