MSG Services
Overview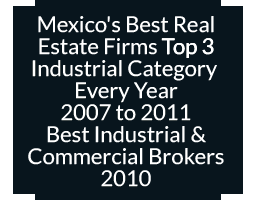 The MSG Alliance provides real estate and site selection services to American and European companies starting up or expanding manufacturing and distribution facilities in Mexico. MSG Alliance cities include Monterrey, Saltillo, Guadalajara, Queretaro, Juarez, Chihuahua, Mexicali, Hermosillo, Tijuana, Toluca, and surrounding areas.
Our professionals have an average of 10 year's experience exclusively advising U.S. and European industries' real estate needs in Mexico. We have completed real estate and site selection engagements in every major Mexican market, every minor Mexican industrial city, and in some locations barely on the map.
We also assist companies with professional analysis of contract manufacturing or shelter operator options in every industrial city in Mexico from Guaymas and Empalme in Sonora, Mexico to Chihuahua, Saltillo, Reynosa, and elsewhere.
Real Estate Brokers
We exclusively represent incoming American and European industries seeking manufacturing or distribution buildings for lease or sale in Monterrey, Saltillo, Guadalajara, Queretaro, Juarez, Chihuahua, Mexicali, Hermosillo, Tijuana, Toluca, and surrounding areas. If a suitable building is not available we assist with custom build to suit options including construction company qualification, selection, and bidding.
The typical Mexico Services Group Alliance project is an industrial facility from 30,000 to 400,000 square feet for aerospace, automotive, electronics, packaging, or other sectors. We also have an unparalleled database of investors that will buy an existing building and lease it back to Mexico Services Group client companies or they will build a custom building to be leased. We also package and bid portfolios of industrial buildings.
For an exceptionally qualified industrial real estate agent or broker please contact us:
[hidden email]
Site Selection Consulting
The MSG Alliance offers site selection consulting services for manufacturing startups or expansions in Mexico. Most often an incoming foreign manufacturing firm needs an independent study that identifies the most logical cities in Mexico for their needs, and then a comparison of these locations based on factors including labor cost & availability, available incentives, infrastructure cost & availability, logistics costs & realities, union environment, proximity to suppliers & customers, real estate costs & availability, and up to 30 other factors.
Our site selection studies are based on a proprietary database of information gathered over a 10 year period, continuous database updating & development, and first hand inquiries of managers at manufacturing companies operating in each city. Then our team completes on-site research and interviews for the specifics of each client's requirements. We include in our site selection services confidential city and country industrial tours.
To discuss your company's site selection needs or for a quote please contact us: [hidden email]
Shelter and Contract Manufacturing Analysis
The MSG Alliance advises American and European industries considering contract manufacturing options or those interested in contracting with a shelter manufacturing operator. We use the specifics of your home-country manufacturing processes and our very complete database of shelter operators and contract manufacturers throughout Mexico to identify logical candidates to work with your company.
Our analysis delivers first-hand fact-based information to qualify every service provider and then quantify your options for comparison. There are great shelter operators in Mexico and some not-so-great. We know them all. For some companies that need to manufacture in Mexico a shelter or contract manufacturing option is a sound business decision; for others, it can be a disaster. The MSG Alliance will quantify and qualify the shelter options, then issue recommendations for the shelter-yes, shelter-no decision and a fact based report for your company's decision process.
To look at contract manufacturing or shelter operator options in Mexico, contact us:
[hidden email]